Athlete Feedback
---
Emer Sandham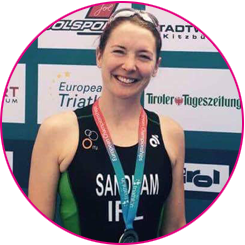 "I approached Rhian for some training advice in January 2017. I love Triathlon, but had reached a stage where I was training with little improvements and was beginning to get a frustrated with my efforts. I had researched generic web-based training plans, read magazine articles and bought the training bible, but was struggling to make sense of it all and tailor something to suit me and my lifestyle.
Since January I have had a training plan from Rhian, which is structured around me and my racing goals this year. I get advice and feedback from Rhian on a weekly basis and I can honestly say that the last few months have made a big difference to my overall fitness, speed and enthusiasm for the sport. I'd always thought having a coach was a luxury or something for podium finishers but it's not. If you want structure and accountability in your training – go for it, sign up for TriRox Training and you'll definitely see the benefits."
- Emer Sandham
Stuart Goldsack
"I was really excited to hear that Rhian was offering personalised training plans, so I signed up in early 2017. Given her experience and knowledge I knew I was going to benefit. Since then I've found consistency and structure to my training,  stayed injury free and have seen my times improve and feel great. Rhian is always there to offer advice and monitor my training and recovery, making tweaks when needed.
Working shifts and having a young family means that sometimes training is hard to fit in, but this is taken into account in my plan, which is easy to follow and let's me concentrate on improving. I'm looking forward to the season ahead."
- Stuart Goldsack
Geran Hughes
"I have coached alongside Rhian for over two years. She is the consummate professional when dealing with people. Her knowledge and experience of triathlon is excellent. Using her affiliative and democratic coaching styles, she is able to empower athletes to improve themselves in the sport."
- Geran Hughes
Pete Borlace
"In late 2017, having trained with Rhian for a couple of years as a member of GOG Triathlon, I signed up to TriRox Training for 6 months to help structure my training and improve my strength and fitness. I am very impressed with Rhian's program, which balances detailed plans with very knowledgable, supportive feedback. The strength and mobility training have positively highlighted weaknesses that I'm improving and the interval sessions have been really helpful.
Since completing the training block, I've set personal best times in running 5km, cycling 10 miles time trial and have improved my Triathlon times. I recommend TriRox Training for any athletes looking to develop their overall fitness, strength and mobility."
- Pete Borlace
Paul Algieri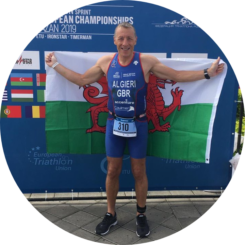 "I started my training plan with Rhian in March 2019. I was training hard but felt I had no real structure to my training. I sat down with Rhian and set my goals for the year. Based on these goals Rhian prepared a plan which I received on a weekly basis. I also had regular feedback on my progress and gave feedback on how I was feeling. We adjusted my training if needed based on this feedback.
As a result of the structured training plan I achieved all my goals for 2019. I represented Great Britain at Age Group level finishing 6th at the European Championships in Russia and in 30th place at the world Championships in Lausanne. I also managed to break the one hour 10 minutes for the Sprint distance triathlon for the first time. My cycling in particular has improved in the year.
As well as an excellent training program I benefited from Rhian's vast experience of having competed at a very high level for a number of years. Rhian's help, feedback and encouragement were invaluable in helping me improve and achieve my goals for the year."
- Paul Algieri