---
SWIM SESSIONS & SWIM ANALYSIS
---
---
1 – 1 Swim Sessions
These are held at Llandudno Swimming Pool, and are with Rhian Roxburgh. She observes and analyses your stroke and then takes you through a developmental drills program to focus on areas of improvement. Following the session, Rhian emails you the drills you worked on in the session, plus a video link to help you to remember the drills and see the correct form. These have been very successful with athletes claiming improvements in personal best times over short and long distances and a better feel for the water.
---
---
---
"I've had 3 swim sessions and really appreciate how Rhian focusses on one particular element to improve. This is done in a very positive way, leaving you very upbeat following the session. The use of earpieces is a fantastic initiative, so that you can hear comments from Rhian whilst swimming. I can't recommend Trirox Training enough! Top class."
– Geran Hughes
"After swimming for many years, including competing in triathlon, I thought I had reached where I could be with my stroke….not so. After a few lessons with Rhian I am now beating my PB's at 1500m and enjoying the varied training to the point I am enthused in my training again. Rhian, listens, understands and communicates her ideas exceptionally well. Would highly recommend!"
– Alan Atkinson
Video Swim Analysis
These sessions are held at Rydal swimming pool in Colwyn Bay. This includes the swim session analysis as well as a detailed video analysis of your stroke. Rhian records you at the beginning of the session, then goes through an analysis of your stroke, whilst you are there. You then go back in the pool to improve the parts of the stroke identified as needing development. This technique is highly effective, as you receive instant feedback. The footage underwater removes any guesswork and letting the athlete actually watch themselves swim can be just what is needed to make adjustments to their stroke.
---
---
---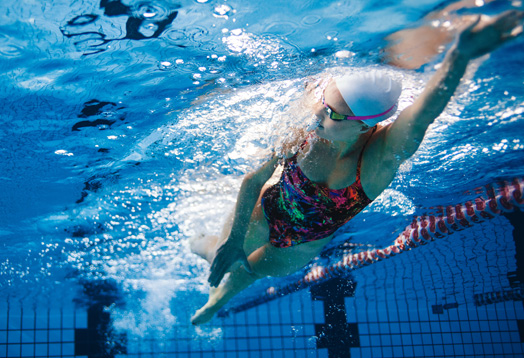 Swim School
This is a group session and varies in price depending on the agenda for the day. The maximum number on this course is 10. Athletes are recorded in the first session, then given feedback in a classroom where they are shown video analysis from a level 3 Triathlon coach and swim instructor. The athletes then go back into the pool in order to develop their stroke. Sometimes on these courses a highly acclaimed Strength and Conditioning coach, Nathan Bullock, delivers a session in the gym. This session is designed to make the athletes more aware of their strengths and weaknesses in terms of flexibility, strength and mobility and they are then given a program to help develop these weaknesses.
---
Group Session:
£100 – £150
---
---
"Nice and friendly, extremely useful for all levels and Video Analysis is amazing.''
"I would most definitely recommend this course to anyone wanting to improve their swim technique."
"1. Relaxed 2. Very practical and informative 3. A fun, but serious way to assess your personal swim technique."
"I would recommend this course because of the; Video swim analysis. Approachable and honest coaching. Value for money."