Recently, I have treated myself to joining the 21st Century when it comes to riding my bike on Zwift (the online virtual world for cyclists and runners)  – which I have been a part of since 2015.   I have bought myself a Smart Trainer – a Wahoo Kickr to be more exact! Having previously used a Wattbike or an ordinary turbo with power pedals for power output which are both good systems and have stood me in good stead for 5 years.  However, my Watt Bike is slightly old and I had been hearing all these wonderful things about Smart Trainers.  Plus, as a coach, I do believe you have to experience these things to understand them better for the athletes you coach.
I had heard many grumbles over the past few months regarding ERG mode on the trainer and had researched in order to help my athletes get the best out of them and to some success as they seemed pretty self sufficient on their smart trainers, and the data I was seeing was pretty impressive.
One thing I specifically noticed was how level the power output was on structured workouts.  Amazing! I would ask myself how were they sustaining the power output so smoothly especially going up and down hills?  Now, I knew that the ERG mode adjusted the resistance for you, and aimed to keep you at the target power no matter what but having experienced it first hand, I totally understand it!
My experience of using ERG mode for the first time on Zwift was, shall we say 'inspire-alling' 😂
Two things I 'knew' prior to my session
The trainer will adjust the resistance for you according to your target power
It will do this regardless of cadence or speed.
Now, knowing this information, you would expect this to go to plan, right?  Wrong!!  One thing I have learned from my experience is: The trainer will adjust the resistance for you according to your target power regardless of cadence, speed OR gearing.
Oh yes, you have guessed it, I experienced the 'Spiral of Death'.  And this is how it happened…
The session I was doing had a main set of 3x5mins at FTP (Zone 4) with a 30sec @ zone 5 before going back down into the FTP efforts.  The first set went to plan, as  I was fresh having only warmed up at this point so, I guess I could adjust to the demands of the trainer.  However, the second time wasn't so good… So believe it or not, going into the Z5 was pretty ok, I was coming from 130w and I was spinning my legs like crazy crossing over into Z5, the resistance adjusted and I maintained 260w for the 30secs.  My problem came when I went into FTP, I made the daft mistake of slowing the cadence down in order to self adjust the resistance ( I think, a split second of wanting that control again) this brought on heavier resistance from my ERG and my cadence lowered again. Zwift was telling me to increase my cadence – easier said than done once in this spiral.  I went through my gears till I came to my easiest one, I was out… nearly approaching the death part of the spiral, my cadence had lowered to 35rpm – this was not good.  I was sweating, cursing, pushing hard to maintain the watts in Z4 and not coming to a dead halt and falling off my bike.  I'm so glad this was not in a group session on Zoom!!!
How did I manage to get out of it? By pure fluke rather than knowledge here I am afraid. I pushed harder on the gears to try and increase my cadence and held on for dear life.  Thankfully the 5minutes came to an end and I managed to recover in time to do it all again.  So this time, you would think that I had learned from my errors and would be 'on it' third time round?  Sadly, no!  I repeated the same mistake, although this time more confused and a lot more tired.  Had the time been any longer, I would have been fading fast into the oblivion and falling off the bike into a complete mess on the floor.  As it happened, I finished the session and then fell into a complete mess on the floor!!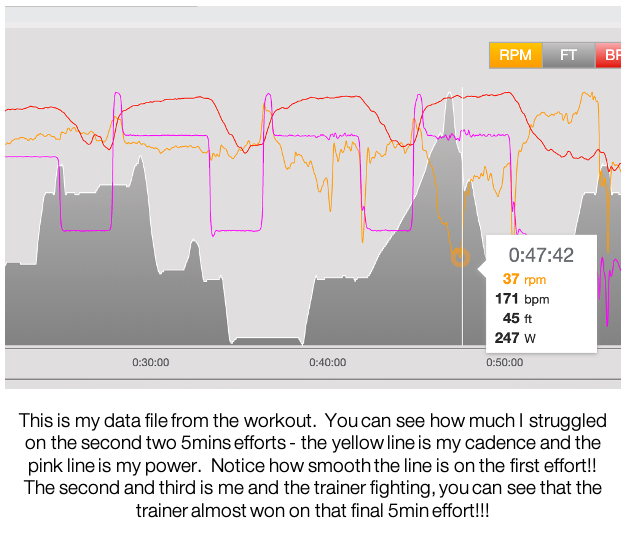 To sum things up, here is what I have learned and for anyone thinking about getting a Smart Trainer and using ERG mode, or for those of you who, like me, has done a session but is still a little unsure how to use the Erg mode, this is for you!
The trainer will set the resistance for your target power , regardless of CADENCE, SPEED and GEARING.
Leave the gears alone (see below for when gearing selection is important and needs to be used), otherwise let the trainer take control.
Attack sharp increases in power targets by increasing cadence slightly before the change.
Focus on maintaining steady consistent cadence through your ride.
When changing from a higher power to a lower power, maintain the same cadence
Allow the ERG a couple of second to adjust between big power differences (from high to low and vice versa).
When going from standing to seated or seated to standing; simply slow your spin to rise up, this will force the ERG to give you more resistance, when returning to your saddle, wind your legs up a bit to get the cadence to where you like it. (Gears are an option here also, please read the article below for more info)
Only use ERG mode for the structured workout sessions.
The Erg mode can be controlled by the Wahoo Fitness device as well as on the Companion app for Zwift. So if all else fails, turn ERG mode off and once you have recovered, turn it back on!
What gear should I be in when using ERG mode?
Here are some thoughts:
Choose a gear where your chain is pretty straight. I suggest on the big chain ring at the front and in the middle of the cassette at the back (in a typical standard crankset (53-11) this would be something like 53-16 or 53-18, depending on your cassette range). This helps to avoid wear and tear of the drivetrain).
You could use a gear that you would ordinarily use for racing e.g. if you usually do TTs then you'll want a bigger gear than if you usually do hill climbs for example.
Pick a low gear to keep noise low.
Choose a low gear to mimic hills or off road riding
Choose a high gear to mimic flat or smooth roads
Gear shifting when in ERG mode:
It has been discussed at length in some cases, as to whether you should use gears when riding in ERG mode or not.  For the time being, I will be experimenting without gear changes and will be trying to get back some credibility from the TRT Crew, however, for those of you who want more information, here is an in-depth article about just that:
https://zwiftinsider.com/shift-during-erg-workouts/