Well, we have waited a few weeks for this post, but this is Emer Sandham's experience of her first European Triathlon Championships, racing for Ireland.
Having had a few minor victories through summer 2016 and spent a week in my home town in Ireland which culminated in a race where I had an age group win in September, I started thinking about where I would take my training in 2017. I had a good summer of racing and wondered what to try next. I had really enjoyed racing the standard distance at Slateman and Sandman, and figured I was probably built for longer distance racing rather than fast paced sprints.  I was contemplating signing up for a middle distance event with fellow club mates, but at the same time I was interested in the concept of age group racing having heard great reports from GOG Running Coach Geran Hughes about his World Championship race in Mexico.
Some confusion ensued which I had to consider carefully, if I were to try and find out about age group racing, where would I start.  I am married to a Welshman and have been living in Wales for over 10 years now, but I still consider my home to be Ireland.  If I wanted to race age group I decided it would have to be in green! However, at Septembers race in Ireland the chatter about 'age group qualification' was pretty final as the season had come to a close and the qualification races were done, hence I figured my chances were limited, so I had parked that 'notion' for the time being.
As the darker, colder months rolled on and the café conversations started to change from the weather and quality of coffee and cake, to where we might race in 2017, I started to think about this age group business again. Having spoken to a couple of the more experienced and knowledgeable club members and done some research I realised that age group qualification for my home nation was slightly more flexible to that of team GB, probably based on sheer population and popularity of the sport. So on a cold December evening I sat down at my PC, Googled 'Tri Ireland age group qualification' and was relieved to see an area for triathletes 'living outside Ireland'. Without further ado I filled in an online form, provided a copy of my passport (to prove I was Irish), collated a list of my race results and times from 2016, paid a small fee and clicked send.
Sure enough later in the month I received an email advising me I has been selected to join the Age Group Team for the European Standard Distance Championships in Austria in June.  All I had to do was confirm, pay my entry fee and go to Kitzbuhel to race.  It was as simple as that from their point of view, but in my mind there was panic, self-doubt, and frustration over lack of training as I had been carrying a running injury. With my own, informed but very much amateur, training approach leaving me feeling like results were plateauing I discussed options with my husband Robin and decided to approach Triroxtraining for some training advice (see my testimony for what a great move that was!). Under Rhian's supervision I resolved I could do this.
So fast forward months of focused training, injury rehab and logistics planning on how to get to Kitzbuhel in summer (it's easier from the UK in winter with ski season in full flow), to the arrival of the green trisuit, the briefing pack and final instructions and we were ready for off.  Robin and I flew out with our bikes to Salzburg on the Wednesday before the race to allow some time to familiarise ourselves with the area and the routes.  I'm glad we did this as I had a chance to ride the bike course, run the route and swim in the balmy Lake Schwarzee a few times. We also got to take in the buzz around the beautiful town for the event and get used to the heat which I hadn't been expecting.  It was just brilliant to be able to walk around town and cross paths with triathletes from all over the Europe as well as some of the Elites we had watched on the BBC racing in Leeds the week before.
Having been advised by Tri Ireland that there wouldn't be an official Team Manager in Austria as there was only a small team of 22 competing, we had arranged to meet fellow Irish competitors at the opening ceremony. It comprised of a 'Parade of Nations', where we walked into the event village under our countries flags, followed by a brief opening speech from the Race Organisers and some Austrian dancing. Conversations soon started over the uncertainty around whether it would be a wetsuit swim, whether the course would be more suitable for tri bikes and if trail or running shoes would be better on the run. Whilst some people appeared to be very stressed about each of these matters, I wasn't too fussed.  I found the lake quite warm, I wouldn't have minded whether it was a wetsuit or not.  I had no choice over my bike, my faithful road bike served me well on the bike course earlier that day and knew my normal trainers would be fine for the run.  I headed off mindful of my Coach's comment to try not let exactly that kind of chatter and doubt get to me. I came to Austria knowing under Rhian's instruction I had done enough focused training though the preceding months; the endurance swims and tough turbo sessions alongside as much running as my hamstring would tolerate should serve me well.
The day before the race came and went, worryingly along with showers of rain. We watched some Junior racing which was seriously impressive. The determination on their little faces was immense, future stars no doubt. I picked up my race pack, had my kit inspection by Officials and racked my bike.  I had been allocated a central rack on transition which was disappointing, the outer rows had far more space.  I was concerned it was going to get a bit congested once all the bikes were in, but that was my lot.  As I was setting up I was astounded by the amount of GB women around me, when I went back to the hotel I consulted the online race programme and was really surprised to see that team GB had almost 20 women in my age category alone, that was fantastic to see.
The day dawned and after an unusually fitful sleep I made my way out the event village at Lake Schwarzee.  I was relieved, the rain had cleared and it was a relatively calm morning.  We were allowed a last minute bike/ transition check and then lined up for our 7.45 start at the pontoon. There were there were 32 women in my 35-39 age category, so we were grouped with a couple of older aged group ladies into a starting wave of around 100.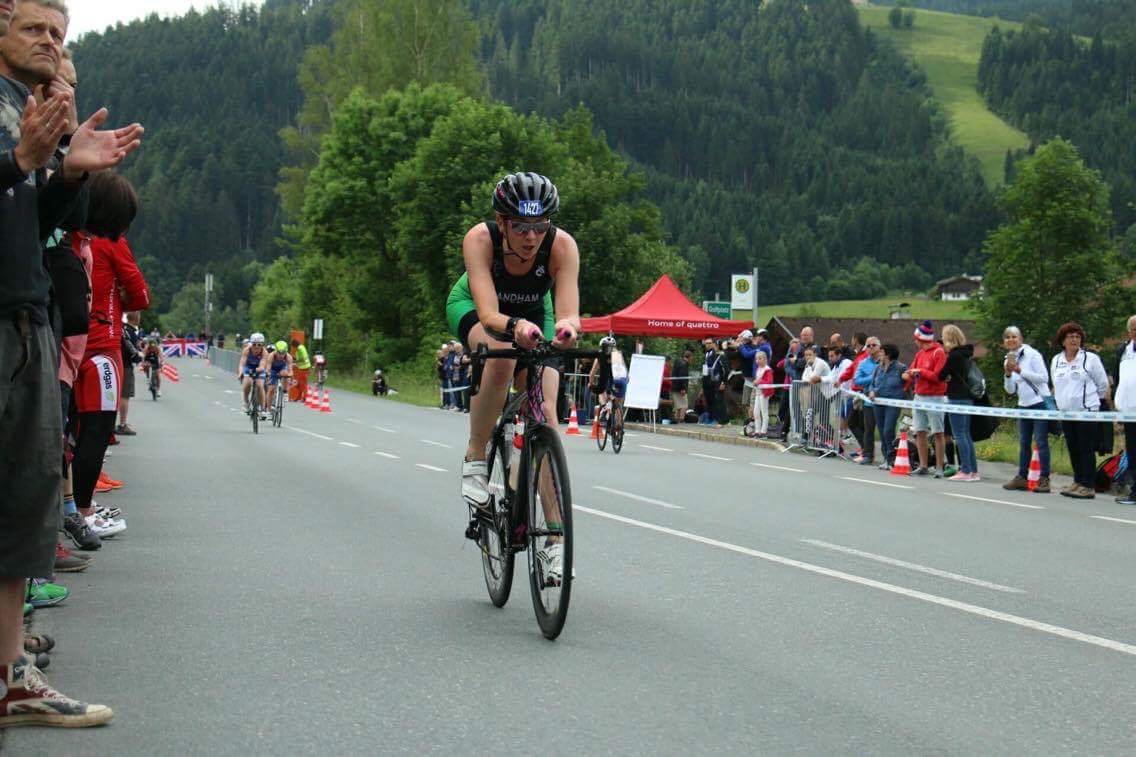 Cue the tense music, the hooter and we were off. I swam the 1.5km swim loop in 28.04 exiting the water in 22nd place, I knew the swim would be my weakest discipline and as is usual for me I was hoping to gain some time on the bike.  I managed to find my bike amongst the crowed racks.  I was careful to put my wetsuit into my allocated box as we were told there would be penalties if we didn't have a clear transition area, and there were several officials policing the transition. I embarked on the first of my three 13 km laps trying to settle myself into a good aero position and get a steady rhythm on the bike.  The circuit was relatively draggy with one fairly challenging climb and long tricky decent on each lap.  The actual climb was fine, as was the descent but it was difficult to gauge how I was doing overall with so many women going off in earlier waves. I found the laps physiologically tough, and I struggled to focus on the last lap after passing a serious crash on the course.  I hadn't encountered a crash before in a race and it shook me a bit.  I averaged 18mph on the bike and finished in 1.26.34. Coming off the bike I felt OK, it had warmed up into the low 20's but thankfully had remained a bit cloudy.  I ran the two laps of the 10k as best I could at the time, the course was gently undulating so there wasn't really any time to rest. Whilst I have run faster 10km's, my run time of 50.55 was in the middle of the field.  I had a strong finish, turning in to the home straight I managed to sprint home with an Austrian girl to the delight of the home crowd. Susanne Ratz and I were awarded the same time, because I think the photo finish software wasn't set up for the Age-Groupers! I finished the race in 2.47.45, 20th place in my age category. The race was dominated by team GB, the first 6 ladies were British with the winner Lisa Webb finishing in 2.25.38. The lady who crashed was OK and the Austrian Dr who stopped and sacrificed her own race to attend to her was awarded a medal for her efforts. All was well in the end.
On reflection, whilst I know I had prepared well for the race under Rhian's guidance, what I hadn't anticipated was how overwhelmed by the experience I would be.  I was quite anxious about racing at this level and had perhaps over-thought the whole thing in the immediate run up to the race.   Funnily enough one of the things that drew me to triathlon when I first started racing in 2014 was the pre-race buzz, the butterflies in your stomach and the anticipation of racing which as an adult you don't experience that much.  This race took all those sensations to a whole new level.  I literally sprinted across the finish the line and burst into tears of joy and relief that it was over, what an experience, a total roller-coaster of emotion. Given the opportunity I would definitely like to give racing at this level another chance, and hope it will happen in the not too distant future.